Mount Elden Birds!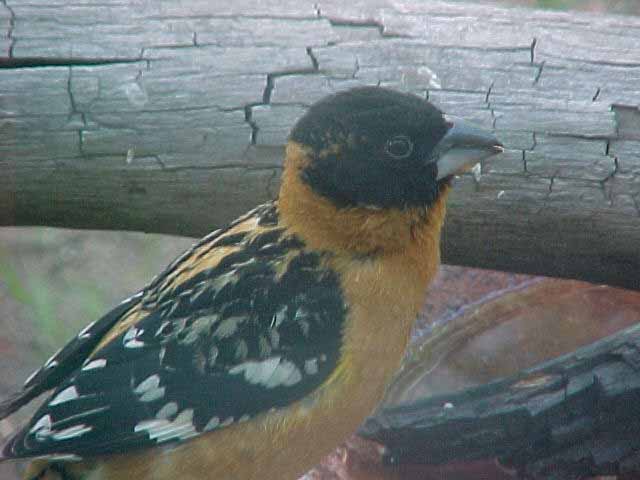 A beautiful male black headed grosbeak.

Since I moved to the base of Mount Elden, in October of 2001, I have been blessed with a wide variety of birds in my back yard. I decided to share them with others. As of today, I have seen 40 species in and over my yard. These are some of the Flagstaff birds you might see as you come through on your Grand Canyon birding trip this year.

Species directory.

Click on species to view.

Mount Elden Birds.
Pine Siskin
Hairy Woodpecker
Flicker
Mountain Chickadee
American Raven
Yellow Rumped Warbler
American Robin
Lesser Goldfinch
Dark Eyed Junco
Pygmy Nuthatch
White Breasted Nuthatch
Townsends Solitaire
House Finch
Stellers Jay
Cassin's Finch
Chipping Sparrow
White Crowned Sparrow
Black Headed Grosbeak
House Wren
Acorn Woodpecker
Broad Tailed Hummingbird
Wilson's Warbler
Rose Breasted Grosbeak
Scrub Jay
Wild Turkey
Western Tanager
Hooded Oriole
Mourning Dove
Turkey Vulture
Rufous Hummingbird
Band Tailed Pigeon
Lazuli Bunting
Ash Throated Flycatcher
Black Chinned Hummingbird
Green Tailed Towhee
Plain Titmouse
Pine Grosbeak
Purple Finch
Virginia's Warbler
Red Crossbill
Other Northern Arizona Birds.
California Condor
Bald Eagle
Western Bluebird
Mount Elden Reptiles.
Arizona Mountain King Snake
Sonoran Gopher Snake
Horned Lizard
Fence Lizard
Mount Elden Mammals.
Mountain Lion
Abert's Squirrel
Chipmunk
Rock Squirrel
Striped Skunk
Mount Elden Miscellaneous.
Tarantula
Scorpion

My name is Rich Ayrey, please e-mail me.

Check out the following links;

Intercontinental Reikifire Training.

Unless otherwise stated, all photographs by Rich Ayrey.
Do not reproduce without the written permission of the photographer.

This site copyright Rich Ayrey 2002-04. Last updated 04/18/04.